The 25 Video Games That Defined The 90s
Ahh, the 90s, how I long for thee.
It was a much simpler time back then, life was easy, and I rarely seemed to have a care in the world.
Actually, that's a lie. I did have one care in the world – gaming. For me, the 90s was the golden era of video games, and my favourite titles of all time come from a decade unspoiled by the world of online gaming.
In celebration of that era, here's a list of the video games that defined the 90s.
Prepare for the mother of all throwbacks, and a nostalgia overload of epic proportions. I hope you have as much fun reading the list as I did going over old YouTube videos of these games.
1. Super Mario World (SNES, 1990)
Despite having the difficult job of following Super Mario Bros. 3, Super Mario World still managed to surpass its predecessor. More intuitive, longer levels, a more expansive world, and of course, the introduction of Yoshi, quickly made this game an instant classic.
2. The Legend of Zelda: A Link To The Past (SNES, 1991)
The third instalment in The Legend of Zelda series, A Link To The Past is considered to be one of the greatest video games of all time. It reverted to an overhead perspective similar to that of the original whilst introducing many elements to the game that are still featured today – including the concept of an alternate or parallel world, and the Master Sword.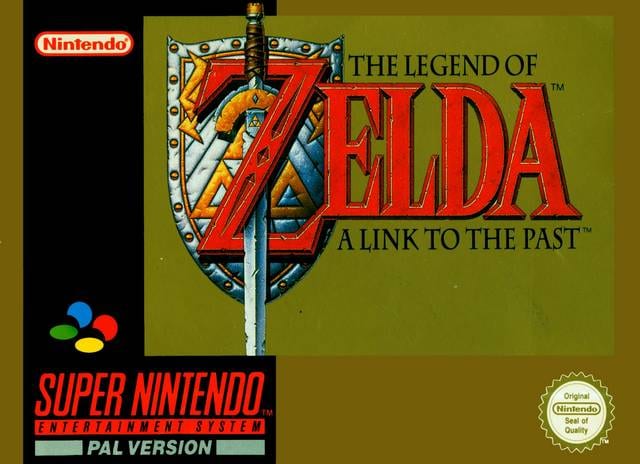 3. Street Fighter II: The World Warrior (SNES, 1991)
A classic video game, Street Fighter II set a precedent for fighting games to follow in the 90s. It spawned a series of Street Fighter games on multiple platforms, whilst many of the characters that first appeared on the game have featured heavily in subsequent titles. Hadoken!
4. Sonic the Hedgehog 2 (Mega Drive, 1992)
Not long after its release, Sonic the Hedgehog 2 quickly became Sega's best selling game, and it's not hard to see why. The speed of the gameplay was unlike anything seen before and immediately entertained players. The inclusion of Tails as a playable character made this a firm favourite amongst fans.
5. Aladdin (Mega Drive, 1992)
This game was notoriously difficult but extremely addictive at the same time. The player controls Aladdin- who must make his way through several levels based on locations from the movie- with players also getting the chance to play as his monkey sidekick, Abu. It was released at the same time as another Aladdin game for the SNES, but this was far better.
6. Mortal Kombat (Mega Drive, 1992)
A more gory and violent alternative to Street Fighter, Mortal Kombat was one of the most controversial games of the 90s. The fatalities were over the top, graphic, and at times, comic, whilst its characters and superb gameplay made it a standout game of the decade.
7. Doom (PC, 1993)
One of the only PC titles to feature on the list, Doom is a legendary first person shooter, way before we ever had the likes of Call of Duty. In fact, without Doom and its technology, we'd probably never have most of the first-person shooters we're familiar with today. Its death matches and gameplay in general are iconic, and helping 'Doomguy' kick some serious demon ass was so, so satisfying.
8. A Legend Of Zelda: Link's Awakening (Game Boy, 1993)
Most sequels fail to live up to the originals, but this isn't one of them. Not only did it live up to A Link To The Past, it surpassed it, taking the whole Zelda series to the next level. Set away from Hyrule Field, Link's Awakening takes place on Koholint Island as Link fights monsters and solves puzzles while searching for eight musical instruments to wake the slumbering Wind Fish and return home.
9. Super Metroid (SNES, 1994)
A direct sequel to Super Metroid II: Return of Samos, Super Metroid is set on planet Zebes and follows Samus as she tries to rescue a baby Metroid from Space Pirate leader, Ridley. It's a puzzling game that is visually dark, focusing on exploration as you acquire more advanced weapons and abilities as you progress.
10. Earthworm Jim (Mega Drive, 1994)
Few video games get a TV show made about them, but Earthworm Jim is one of them, attesting to the huge popularity that the game had. The game was pretty straightforward, with players controlling an earthworm named Jim who battles evil in a robotic suit to save Princess What's-Her-Name (that's actually what she's called), in a classic run and gun style gameplay. Bosses include Queen Slug-for-a-butt, Evil the Cat and Bob the Killer Goldfish.
 11. Worms (All Platforms, 1995/1996)
What is it with worms and the 90s? A truly unique game at the time, Worms was a massive hit, as players controlled a small quartet of worms across various random landscapes, battling other computer or player-controlled teams in tactical death matches. The best part of the game was the weird and wonderful weapons that ranged from bazookas to sheep.
12. Super Mario 64 (N64, 1996)
Another instalment in the Super Mario series, Super Mario 64 was the first of the games to utilise 3D graphics. It takes place in Princess Peach's castle after being kidnapped by Bowser, so it's up to Mario to save the day. Players explore a wide variety of levels contained in paintings, with each level containing 7 stars of which Mario needs 70 to fight Bowser in a final battle. Visually stunning with amazing level design, it remains one of the best 3D platformers ever.
13. Crash Bandicoot (PlayStation, 1996)
Probably my favourite game of all time, Crash Bandicoot had it all. Wild, zany, challenging and rewarding, the various worlds and levels were what made this game so addictive. The bosses were equally memorable and included Papu Papu, Ripper Roo, Pinstripe Potoroo, and of course Doctor Neo Cortex. It is the eighth best-selling PlayStation game of all time.
14. Tomb Raider (PlayStation, 1996)
Given that it was made into a blockbuster movie, where Angelina Jolie played the title character, it's easy to forget that first and foremost Lara Croft was the character from a video game- Tomb Raider –featuring the archaeologist that had gamers tearing their hair out and screaming, "WHERE DO I GO!?". The epic caves and environments made the game what it was, whilst the movement and puzzling nature of the gameplay made for a really rewarding play.
15. GoldenEye (N64, 1997)
The four player split screen mode of GoldenEye was the source of countless nights of entertainment for kids and teenagers, as James Bond entered the gaming world. It built on what Doom had given gamers a few years before whilst cranking it up a notch, and was probably the best first-person multiplayer game of the 90s. There was a huge choice of levels, guns, characters and gameplay modifiers, and the mere fact you could play as 007 himself made it ten times cooler.
16. Final Fantasy VII (PlayStation, 1997)
Probably most people's first introduction into the world of JRPGs, Final Fantasy VII was single-handedly the most important game for popularising Japanese role-playing games worldwide. A beautiful gaming story, compelling characters and sensational gameplay, it'll no doubt hold a special place in all gamer's hearts.
17. Tekken 3 (PlayStation, 1998)
I wouldn't like to know the amount of hours I put into this game. I wouldn't even want them back, because as far as I'm concerned it was time well spent. The vast array of characters, all with their own distinct fighting style, is what made this game so great, and ensured you could keep coming back time after time. Everyone had their favourites, but my go to was Brazilian capoeira fighter, Eddy.
18. Pokémon Blue/Red (Game Boy, 1998)
I played this game so much my parents would actually have to confiscate my Game Boy. The replay value on this game was incredible, and still holds up amazingly well to this day. Two versions of the game, Blue and Red, were released, with users able to catch different Pokémon depending on which version they had. Training, evolving and battling Pokémon to compete for gym badges, these games were immensely popular, and have spawned a number of other titles across various platforms.
19. Spyro The Dragon (PlayStation, 1998)
Again, one of my personal favourites, Spyro was a beautiful game that proved to be huge success for those at Sony. Charging, gliding, breathing fire and collecting treasure through a number of levels and worlds, players controlled Spyro, and his friend Sparx, as they try to save their dragon kind from baddie Gnasty Gnorc. Interestingly, former drummer of The Police, Steward Copeland, composed and produced the game's music, with critics praising almost every aspect of the game.
20. Metal Gear Solid (PlayStation, 1998)
Extremely ambitious at the time, Metal Gear Solid was about as original as they come. It follows Solid Snake, a soldier who infiltrates a nuclear weapons facility to neutralize and take down a group of terrorists. Massively important in popularising the stealth genre, the gripping/slick action, compelling cut scenes and fourth-wall breaking antics- where a telekinetic genius called Mantis reads your console's memory card, MGS was a truly immersive gaming experience.
21. Resident Evil 2 (PlayStation, 1998)
Like many games on this list, the original was brilliant, but the sequel was just better. Set two months after the events of the first game, Resident Evil 2 put players in Raccoon City, an American community transformed into zombies after being infected by a biological weapon called the T-virus, developed by a pharmaceutical company called Umbrella. It was somehow more terrifying, and had more enemies than its predecessor, and the fact you could continue on a second quest after beating the game with one player, made it a must-have game.
22. Banjo Kazooie (N64, 1998)
Bearing a striking resemblance to Super Mario 64, Banjo Kazooie still managed to capture the hearts of thousands of gamers around the world. Fun, colourful and ridiculously enjoyable, it follows Banjo and his bird friend Kazooie on a mission to save Banjo's sister from the evil witch Gruntilda.
23. Donkey Kong 64 (N64, 1999)
You didn't think I could have a list of games from the 90s and not have Donkey Kong in it did you? The first Donkey Kong game to incorporate 3D graphics, players explored themed levels of an island to collect items and rescue his kidnapped friends. There are five playable Kong characters, each with their own special abilities, and players must complete puzzles and mini games to receive collectibles in order to advance through the game. Similar to earlier release Banjo Kazooie, it still stood up on its own.
24. Gran Turismo 2 (PlayStation, 1999)
A game that you could play for hours on end- even if you had no real interest in cars, Gran Turismo 2 was so realistic and detailed at the time of release it was really quite ground-breaking. It boasted nearly 600 cars from various manufacturers, and the variation in tracks, races, settings and license tests made it the complete racing game. Billed as the ultimate driving simulator, it's still arguably the best in the series.
25. Tony Hawk's Pro Skater(PlayStation, 1999)
This game was pretty unique, because even people that weren't into skateboarding absolutely loved it- including myself. The customisation afforded to players made it a roaring success, and the gameplay itself was crazy addictive- forcing you to go that little bit faster and get an even higher combo. Subsequent titles were probably even better but this makes the list for popularising a fairly underrated sport at the time.
Have I missed any games of the list? Let us know which games you loved in the comments below!
Images via Nintendo/Sony/Universal/Sega